Camp Jungle Brooks
All Adventure activities
River Crossing
River rafting has gained immense popularity in the last few years in Himachal Pradesh. The melting snow on Himalayas during summers, fill the rivers with water and also provide them the enough speed to take up rafting challenges. Himachal Pradesh's snow-fed rivers pose the toughest of the challenges to the rafters. The magic behind rafting is the extreme and never-ending thrill in the untamed rivers.
Now young players can join in the fun of River Crossing! In this junior version of the award-winning game, you must make it safely across the lagoon. With an imaginative game design and 4 levels of difficulty, this strategy game is a fantastic way to practice sequential reasoning and exercise creative thinking.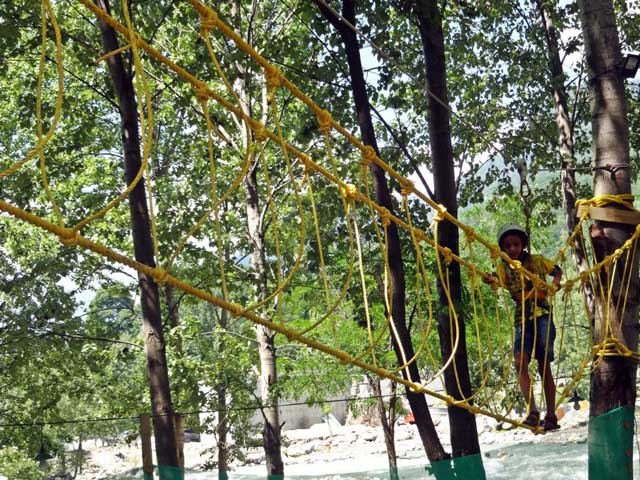 Burma Bridge
The Burma rope bridge is the classic rope walking activity for the thrill seekers. It involves a thick rope on the base to walk upon, and then two ropes on the sides to hold on to as this bridge stretches across an area.
We organize this group activity at the camp with the safety equipment and experienced guides.
We are offering to our customers the Burma bridge camping activities. Well, this is the time you should take a break that will let you enjoy the excitement that is truly going to make you crazy as you indulge in total sports activities. Surrounded by the the beautiful nature's greens, you will have a wonderful time that will drive away all your everyday stress. enjoy our Burma bridge camping activities.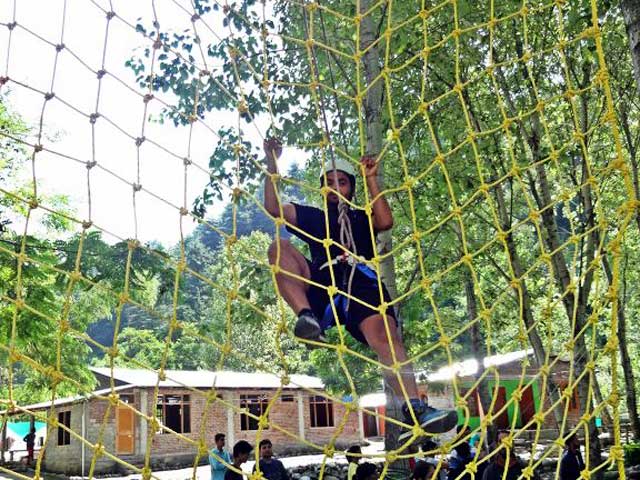 Commando Net
Climbing commando net is also quite adventurous. For decades, commando nets have been used for the purpose of training. It is a favorite outdoor activity for Team building and physical fitness and good reflexes. Revel in an adrenaline packed commando net adventure activity in our camp.
An obstacle course is a series of challenging physical obstacles an individual or team must navigate usually while being timed. Obstacle courses can include running, climbing, jumping, crawling, swimming, and balancing elements with the aim of testing speed and endurance. Sometimes a course involves mental tests.
Rock Climbing & Rappelling
The area around Manali offers some amazing rock climbing spots. Some of our favorites are near Vashisht, the Solang Valley and the Manali Mountaineering Institute. You need no previous rock climbing experience and top roping or traditional climbing can be organized, all tailored to your ability- the local area has options for everyone from complete beginners to some very exciting routes best suited for the advanced.
Rock Climbing is an activity in which participants Climb up, down or across natural rock formations walls.We are pioneers in opening climbing routes in Manali and we will help you to discover many of the climbing spots in the Kullu valley in a way as natural and ecological as possible.
Friendship Ladder
A unique activity suitable for school and college groups. Aimed at enhancing the overall physical strength and endurance of the participants. The Friendship ladder puts a great deal of stress on upper and lower body where participants are required to climb up the ladder built out of rope and wood.
A fun filled activity that will not only increase the overall physical strength of the participants but also develop the skills to work as a team.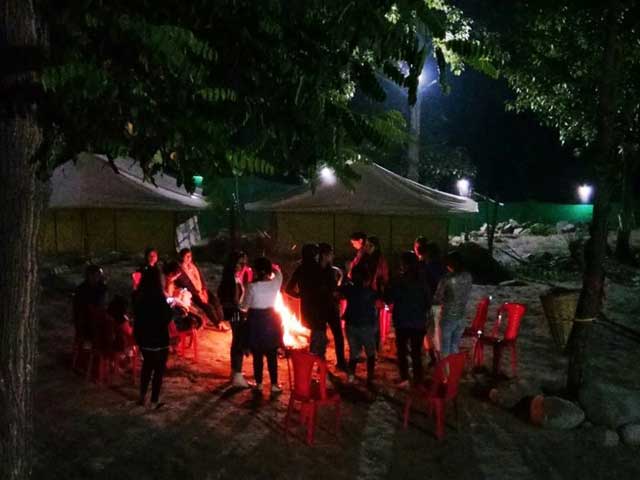 Barbecue and Camp Fire
What more do you need after a tiring day of physical exhaustion ? A camp fire with friends and a nice freshly made barbecue party. This is usually our way to treat all the participants after a full day of adventure activities at Camp Jungle Brooks.
Celebrating the joy of being surrounded by brook and mountains, barbecue and bonfire will leave an everlasting footprint down in your memory lane for life.